Expert Gutter Installation & Repair
Your gutters are an important part of your roofing system, which is why we include gutter repair and installation in our services. If your gutters aren't doing their job, you can end up with widespread damage to your home, from the roof to the basement. Let Saturn Construction LLC provide you with a free estimate for gutter installation or repair – call us today.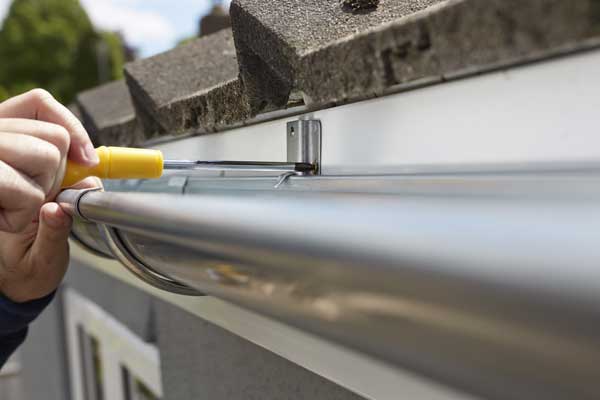 Gutter Installation
Sometimes when you replace your roof, your roofing company will advise you to replace your gutters. Other times, you may notice they need replacement before or after a new roof installation. Sometimes when we perform a roof repair, especially when replacing fascia, we recommend new gutters.
Saturn Construction LLC will carefully evaluate your roof to determine the best gutter size and design so you never have to deal with overflowing gutters. We offer seamless aluminum gutter installation in many colors to provide the perfect finishing touch on your home.
Seamless gutters don't leak like sectional gutters and because we make them at your home, they'll fit perfectly. If you are tired of cleaning your gutters, we offer gutter protection systems that will keep out debris and prevent clogged gutters for years to come.
Gutter Repair
Gutters can be damaged in many ways. If yours are pulling away from your home, leak or have missing sections, they can't do their job. Saturn Construction LLC can inspect your gutter system and determine if gutter repair is advisable or if your home will be safer with new gutters. If yours have been damaged in a storm, we can include the gutter repair as part of the roof repair claim.
Contact Us for Your Gutter Needs
Don't risk property damage from poorly functioning gutters. Let Saturn Construction LLC repair or replace you gutters today. We accept all insurance claims. Schedule your appointment by calling (419) 279-2085 or filling out our contact form today.